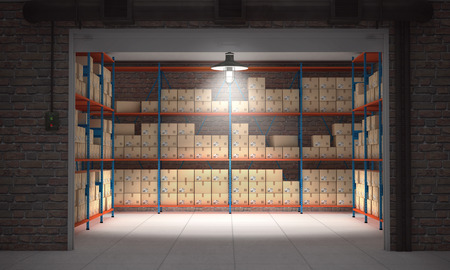 If you're running a small business, the last thing you want to do is worry about the lack of breathing space in your office, workshop, or display area. And a messy or cluttered appearance to these public-facing rooms doesn't make a good impression on your customers, either.
Renting a self storage unit can be a cost-effective and convenient solution to your space management problems – especially if you're:
Downsizing your existing business, remodeling, or renovating.
Relocating to a new area.
Storing seasonal items like tents, marquees, outdoor booths, or patio furniture.
Storing excess inventory, documents, or office supplies.
Using Self Storage for business makes sense as a short or long-term option, providing an extension to your business premises that's considerably cheaper than renting additional office, warehouse or store-front space. But you'll need to take a few steps to ensure that you get the most out of it.
Using Self Storage for Business – Keep A Running Inventory
Document everything you have in storage (there are spreadsheets and dedicated mobile apps for this), and keep tabs on inventory that leaves or comes in. This will also help in preparing a schedule of items for your insurance coverage.
To that end, if you purchase a self-storage insurance policy with SnapNsure™, they include a free Online Photo Archive Vault as part of their product offering so you can easily keep track of everything you put into storage.
Using Self Storage for Business – Consider Climate Control for Sensitive Items
For things like computer equipment, sensitive documents, pharmaceutical samples, furniture, or anything likely to be affected by vermin, extreme heat, cold, or moisture, a storage unit with climate control (air-conditioning, ventilation, and thermostatic heating) should be considered.
Using Self Storage for Business – Use Appropriate Packaging
Items that you won't need access to right away will require a different kind of packaging from those that you'll be dipping into more often, such as product samples or office supplies.
Using Self Storage as an Actual Business Space
Beyond additional space, there's a growing market of self-storage facilities that will rent units out as actual business locations – for use as small offices, workshops, concession stands, and the like. The storage companies may even provide small business perks like free Wi-Fi, climate control, electrical outlets, package delivery, office furniture (for a higher rental fee), or extra security.
Depending on the terms set out by the storage facility, you might consider renting one of these if you're in the following sectors:
Online trading or eCommerce retailing (e.g., eBay)
Digital creative or content provider
Repair service or workshop
Charity or thrift store
Specialist or vintage furniture sales
Video production
Photographic studio
Agency or consultancy front office
Since most storage facilities rent units out on a per-month basis, you won't be locked into an agreement for extended periods, and you'll have the option to choose different unit sizes to scale up or down as your business fortunes and circumstances change.
Whichever kind of self-storage unit you choose for your small business, you'll need to take out a comprehensive insurance program to cover all of the items you have stored.
Make Sure to Properly Insure Your Business Property in Storage with SnapNsure™
If you choose to use Self-Storage to help run your small business, you will want to be sure that the stored items remain safe from theft, pests or rodents, and damage due to environmental factors such as fire, flooding, storms, and lightning.
When it comes to pricing, coverage, convenience, and reliability, the SnapNsure™ Contents Program is the best choice as a consumer to address all of these concerns. Coverage plans range from a minimum of $2,000 up to a maximum of $25,000 of coverage per unit.
And it's far more comprehensive, allowing you to add specific incidents coverage for Named Storms, Flood, Rodent, and Earthquake. SnapNsure™ is the only company in the U.S. offering all of these coverages together – and the only company offering Named Storm coverage for self-storage, at all.
SnapNsure™ is a "direct-to-consumer" product with no middleman, SO YOU WILL SAVE MONEY! Their premiums are typically 100% to 200% lower for the same coverage limits offered at the storage facility (storage facilities typically mark up their premiums, with a sizable profit going straight to the storage company).
And every SnapNsure™ policy has a standard $100 deductible.
Coverage renews every month upon payment of your SnapNsure™ premium. It starts as soon as your completed application is received electronically by the SnapNsure™ website – so you can even purchase coverage on your cell phone as you're signing the storage facility's rental contract. Simple right!
SnapNsure™ is underwritten by The Hanover Insurance Group – the holding company for one of the largest, admitted insurance carrier's in the United States.
It simply makes sense to get the coverage you need from SnapNsure™. Get Insured now!